June 15th, 2022
Hi Readers!

This is coming a bit early this month, but that's because the Women's Prize winner was announced yesterday and I'm too excited to share my opinion! There's also been a lot of exciting developments in adaptations the past few weeks.
Here are my picks for the most exciting releases coming out in June.
Paperback Releases:
Season 3 of Umbrella Academy Netflix
Comes Out June 22nd
Based on the graphic novels by Gerard Way.
Starring Elliot Page, Tom Hopper, David Castañeda, Emmy Raver-Lampman, Robert Sheehan, & Aidan Gallagher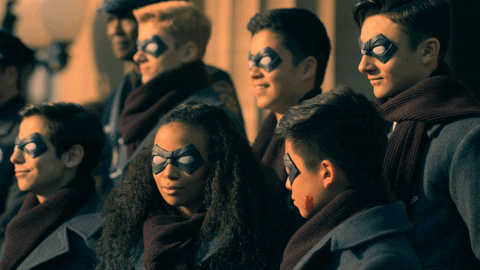 Love & Gelato Netflix
Releases June 22nd
Based on the novel by Jenna Evans-Welch
Starring Susanna Skaggs, Tobia De Angelis, and Owen McDonnell
The Summer I Turned Pretty Amazon Prime Video
Releases June 17th
Based On The Novel by Jenny Han
Starring Lola Tung, Christopher Briney, and Gavin Casalegno
Everything I Know About Love BBC
On the BBC IPlayer now.
Based on the memoir by Dolly Alderton
Starring Emma Appleton and Bel Powley
We Have A Trailer For Persuasion!
On my first watch of this, my initial reaction was, what is this?

Now I've given it some time to process, and I think I could enjoy this movie, if I forget it's Jane Austen. This isn't a faithful adaptation, Anne is so out of character, and I'm pretty sure the word 'exes' hadn't been coined yet… But for some reason Hollywood has decided that Austen is boring and they need to spice it up a bit. We'll see how that turns out…
We got a teaser trailer for the new Hunger Games based on Suzanne Collin's prequel Ballad of Songbirds and Snakes.
I don't know anyone who wants this, but it's happening. It's been given a release date of November 2023, but no news on cast yet.
Season Two Of Shadow & Bone finished filming!
Rick Riordan gave us some Percy Jackson casting news as filming got underway.
Red, White & Royal Blue got it's main leads. Taylor Zakhar Perez is Alex Claremont-Diaz Nicholas Galitzine is Henry Fox-Mountchristen-Windsor.
I've seen a lot of people not happy with this casting, and whilst I haven't read the I do agree. They look too old for the role and I'm tired of straight actors being cast into gay roles.
We got our first teaser poster for The School For Good & Evil
A film adapted from the novel by Soman Chainani and starring High School Musicals (tmts) Sofia Wylie, Shadow & Bone's Kit Young, and Charlize Theron.
We also got a poster upcoming adapation for Neil Gaiman's The Sandman, which is releasing in August.
The Women's Prize For Fiction 2022 Goes To…
The Book Of Form And Emptiness by Ruth Ozeki!
Not my number one choice (The Island of Missing Trees). Or my number two choice (Sorrow and Bliss). But I guess it's my number three choice by default as I wasn't able to read the other three on the shortlist.

I had a rocky time reading this book, but my full thoughts are in my review here.
Costa announced it would no longer be hosting the Costa Book Awards.
This award, which ran for 50 years, has been a huge boost for the nominated and winning books. So far Costa hasn't given an explanantion as to why and there hasn't been any news as to whether is could be sponsered by anybody else, but hopefully they can as losing this will be a big blow to the industry.
Imogen Hermes Gower is ready to be published again.
It's been four years since her super hyped debut The Mermaid and Mrs Hancock was released and Gower found the experience 'discombobulating'. But she's possibly ready to dip her toes in again, and I for one will be here when she's ready.
Matthew Perry Has Finished Writing His Autobiography
I'm not usually a fan of celebrity books, but I am quite excited for this one.
We Had A Beautiful Cover Reveal For Sarah Underwood's Lies We Sing To The Sea
This is a beautiful book and I am all here for a sapphic Odyssey retelling!
What do you guys think of this years Women's Prize winner? And are you excited, or devastated about the new adaptation of Persuasion?
Thanks For Reading,
Jess X