September 20th, 2022
Hi Readers

Here are some books you can look forward to in October!
Maureen Fry and the Angel Of The North by Rachel Joyce
Releases: October 20th, Doubleday
Ten years ago, Harold Fry set off on his epic journey on foot to save a friend. But the story doesn't end there.
Now his wife, Maureen, has her own pilgrimage to make.
Full Synopsis Here


Before I Do by Sophie Cousens
Releases: October 11th, G.P. Putnam's Sons
What would you do if 'the one that got away' turned up the night before your wedding?
Full Synopsis Here


Our Missing Hearts by Celeste Ng
Releases: October 4th, Penguin
Our Missing Hearts is an old story made new, of the ways supposedly civilized communities can ignore the most searing injustice. It's a story about the power—and limitations—of art to create change, the lessons and legacies we pass on to our children, and how any of us can survive a broken world with our hearts intact.
Full Synopsis Here
It Starts With Us by Colleen Hoover
Releases: October 18th, Atria Books
The sequel to It Ends With Us
Full Synopsis Here



Someday, Maybe by Onyi Nwabineli
Releases: October 6th, Magpie
Here are three things you should know about my husband:
1. He was the great love of my life despite his penchant for going incommunicado
2. He was, as far as I and everyone else could tell, perfectly happy.
3. On New Year's Eve, he killed himself
And here is one thing you should know about me:
1. I found him.
Bonus fact: No. I am not okay
Full Synopsis Here
Demon Copperhead by Barbara Kingsolver
Releases: October18th, Harper
A David Copperfield retelling set in the contemporary American South. 'Demon Copperhead speaks for a new generation of lost boys, and all those born into beautiful, cursed places they can't imagine leaving behind.'
Full Synopsis Here
The Passenger by Cormac McCarthy
Releases: October 25th, Knopf
Traversing the American South, from the garrulous bar rooms of New Orleans to an abandoned oil rig off the Florida coast, The Passenger is a breathtaking novel of morality and science, the legacy of sin, and the madness that is human consciousness.
No Plan B by Lee Child & Andrew Child
Releases: October 25th, Delecorte Press
The new Jack Reacher: A man in a gray hoodie and jeans, moving like a shadow, pushes a woman to her death—before swiftly grabbing the dead woman's purse and strolling away. Jack Reacher, after witnissing this, chases after him.
Full Synopsis Here
The Atlas Paradox by Olivie Blake
Releases: October 25th, Pan Macmillan
Sequel to The Atlas Six
Full Synopsis Here



Lore of Olympus Vol. 3 by Rachel Smythe
Releases: October 11th, 2022
Witness what the gods do after dark in the third volume of a stylish and contemporary reimagining of one of the best-known stories in Greek mythology, featuring a brand-new, exclusive short story from creator Rachel Smythe.
Full Synopsis Here
Poster Girl by Veronica Roth
Releases: October 18th, William Morrow
A woman desperately searches for a missing girl after the collapse of the oppressive dystopian regime and uncovers the dark secrets about her family and community along the way.
Full Synopsis Here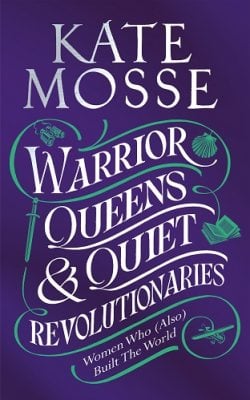 Warrior Queens and Quiet Revolutions by Kate Mosse
Releases: October 13th, Pan Macmillan
Mosse has brought together female stories unheard until now. Celebrating their achievements that are too often left out of history books.
Full Synopsis Here


Soft Lad by Nick Grimshaw
Releases: October 27th, Hodder & Stoughton
These are Grimmy's stories of things gone right and wrong across his life and career so far, with all the highs and lows and everything in-between. Nostalgic and heartfelt, it will shine a humorous and captivating lens on the ever-evolving cultural obsessions we live by.
Full Synopsis Here
Madly, Deeply: The Alan Rickman Diaries
Releases: October 4th, Canongate
Throughout his career Rickman kept diaries of his experiences with the intent of publishing. They run from 1993 to 2016, the year he past away, and are forewarded by Emma Thompson.
Thanks For Reading,
Jess X