June 27th, 2022
Hi Readers!

Here are some of the exciting releases coming in July.
Delphi by Clare Pollard
Releases: July 28th, Fig Tree / August 2nd, Simon Schuster
I am sick of the future. Up to here with the future. I don't want anything to do with it; don't want it near me'

It is 2020 and in a time more turbulent than any of us could have ever imagined, a woman is attempting to write a book about prophecy in the ancient world.

Navigating the tightening grip of lockdown, a marriage in crisis, and a ten-year-old son who seems increasingly unreachable, she becomes fixated on our many forms of divination and prediction: on oracles, tarot cards and tea leaves and the questions we have always asked as we scroll and click and rage against our fates.

But in doing so she fails to notice the future creeping into the heart of her own home. For despite our best intentions – our sacrifices and our bargains with the gods – time, certainty and, sometimes, those we love, can still slip away …
Honey And Spice by Bolu Babalola
July 5th, William Morrow & Company
Kiki Banjo is an expert in relationship-evasion.

In fact, she has made it her mission to protect the women of Whitewell University from the dangers of players and heartbreak, supplying advice, tips and essentials to paying men no mind on her student radio show, Brown Sugar.

And then Kiki meets distressingly handsome newcomer Malakai Korede, who threatens to tear apart the community of women she's fought so hard to protect.

Kiki publicly declares Malakai the 'Wasteman of Whitewell' on Brown Sugar and brings a stop to her girls chasing his attentions. But when she and Malakai suddenly find themselves shackled into a fake relationship to salvage their respective reputations and save their academic futures, she is in danger of falling for the very wasteman she warned her sisters about.

With her heart compromised and defences weakened, Kiki has to learn to open herself up to the perils of love… and face up to a past that forced her to close down in the first place.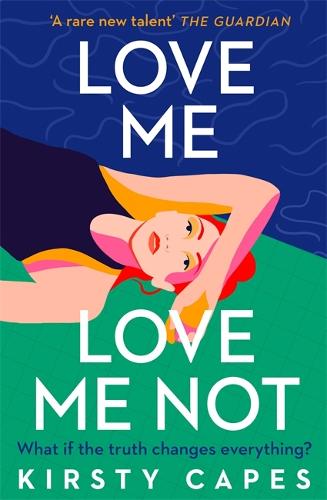 Love Me, Love Me Not by Kirsty Capes
Releases: July 7th, Orion Fiction
Lucy Banbury is fine. Until she isn't…

Lucy Banbury isn't the sort of person that everyone gets along with – she's prickly and secretive, and she likes things ordered 'just so'. But things couldn't be going better for her – she swims three times a week, she's on the cusp of a huge promotion at work and she's dating someone perfect on paper.

But when she discovers at a family wedding that she's adopted, her whole world is shattered. Those cracks she's taken years to plaster over are beginning to surface and she's not sure how much longer she can keep all her secrets hidden, all whilst pretending to be someone she's not…

Because how can you pretend to love your life, when nobody loves you?
Blue Hour by Sarah Schmidt
Releases: July 7th, Tinder Press
She thinks of blue mountain, her favourite place. 'We're going somewhere where we can be safe.We never have to come back here.'

As the rest of the world lies sleeping, Eleanor straps her infant daughter, Amy, into the back of her car. This is the moment she knew must come, when they will walk out on her husband Leon and a marriage in ruins since his return from Vietnam. Together, she and Amy will journey to blue mountain, a place of enchantment and refuge that lit up Eleanor's childhood.

As the car eats up the miles, so Eleanor's mind dives back into her fractured relationship with her mother, Kitty. Kitty who asked for so much from life, from love, from family. Kitty who had battled so hard to prise her husband George out of the grip of war. Kitty, whose disapproving voice rings so loud in Eleanor's head.
Square One by Nell Frizzell
Releases: July 7th, Bantam Press
EVERYONE IS MOVING ON… AND THEN, THERE'S HANNA

BY THIRTY, HANNA EXPECTED TO HAVE IT ALL (OR AT LEAST SOME OF IT)
A fulfilling and successful career
A healthy, long-term relationship, maybe even an engagement ring
A house (or at least a flat) of her own
BUT IN REALITY, SHE'S BACK AT SQUARE ONE…
Single after breaking up with someone she's not sure ever loved her
Flooded with wedding invitations and pregnancy scan pictures from friends
Unable to afford to live on her own, moving in with her (also single and dating) father
Everyone moves at different paces, but Hanna's life is in reverse. With the pressure to keep up and her dad's insufferable musings on Tinder, will she be able to figure out what she really wants?
The Museum of Ordinary People by Mike Gayle
Releases: July 7th, Hodder & Stoughton
Still reeling from the sudden death of her mother, Jess is about to do the hardest thing she's ever done: empty her childhood home so that it can be sold.
But when in the process Jess stumbles across the mysterious Alex, together they become custodians of a strange archive of letters, photographs, curios and collections known as The Museum of Ordinary People.
As they begin to delve into the history of the objects in their care, Alex and Jess not only unravel heartbreaking stories that span generations and continents, but also unearth long buried secrets that lie much closer to home.
I'm Sorry You Feel That Way by Rebecca Wait
Releases: July 7th, Quercus
For Alice and Hanna, saint and sinner, growing up is a trial. There is their mother, who takes a divide and conquer approach to child-rearing, and their father, who takes an absent one. There is their older brother Michael, whose disapproval is a force to be reckoned with. There is the catastrophe that is never spoken of, but which has shaped everything.

As adults, Alice and Hanna must deal with disappointments in work and in love as well as increasingly complicated family tensions, and lives that look dismayingly dissimilar to what they'd intended. They must look for a way to repair their own fractured relationship, and they must finally choose their own approach to their dominant mother: submit or burn the house down. And they must decide at last whether life is really anything more than (as Hanna would have it) a tragedy with a few hilarious moments.
Accomplished: A Georgie Darcy Novel by Amanda Quain
Releases: July 26th, Wednesday Books
Sixteen-year-old Georgiana Darcy returns to Pemberley Academy for her junior year, hoping to atone for last year's incident with Wickham by rebuilding her reputation, rejoining the marching band, and setting up her older brother Fitz with his. college classmate Lizzie Bennet.




Tomorrow, and Tomorrow, and Tomorrow by Gabrielle Zevin
Releases: July 5th, Knopf
This is not a romance, but it is about love

Two kids meet in a hospital gaming room in 1987. One is visiting her sister, the other is recovering from a car crash. The days and months are long there. Their love of video games becomes a shared world — of joy, escape and fierce competition. But all too soon that time is over, fades from view.

When the pair spot each other eight years later in a crowded train station, they are catapulted back to that moment. The spark is immediate, and together they get to work on what they love – making games to delight, challenge and immerse players, finding an intimacy in digital worlds that eludes them in their real lives. Their collaborations make them superstars.

This is the story of the perfect worlds Sadie and Sam build, the imperfect world they live in, and of everything that comes after success: Money. Fame. Duplicity. Tragedy.

Tomorrow, and Tomorrow, and Tomorrow takes us on a dazzling imaginative quest as it examines the nature of identity, creativity, disability, failure, the redemptive possibilities in play and, above all, our need to connect: to be loved and to love.
Finding Mr Perfectly Fine by Tasheem Abdur-Rashid
Releases: July 7th, Zaffre
Last week I turned 29. Along with the usual homemade Victoria sponge, helium balloon and Selfridges gift vouchers, my Mum's birthday present to me was the threat that if I'm not engaged by my 30th birthday, she's sending me off to the Motherland to find a fresh-from-the-Desh husband.

When Zara's Mum puts together the most archaic of arranged marriage resources (not exactly the romcom-worthy love story she had envisioned for herself), she is soon exhausted by her family's failed attempts to set her up with every vaguely suitable Abdul, Ahmed and Farook that they can find. Zara decides to take matters into her own hands. How hard can it be to find a husband at twenty-nine?

With just a year to go, time is of the essence, so Zara joins a dating app and signs up for speed dating. She meets Hamza, a kind British Egyptian who shares her values and would make a good husband. Zara knows that not all marriages are based on love (or lust) at first sight but struggles with the lack of spark. Particularly when she can't stop thinking of someone else . . .

As her next birthday looms, and family pressure intensifies, Zara knows she must make a decision, but will she make the right one?
The It Girl by Ruth Ware
Releases: July 12th, Gallery/Scout Press
April Coutts-Cliveden was the first person Hannah Jones met at Oxford.
Vivacious, bright, occasionally vicious, and the ultimate It girl, she quickly pulled Hannah into her dazzling orbit. Together, they developed a group of devoted and inseparable friends—Will, Hugh, Ryan, and Emily—during their first term. By the end of the second, April was dead.
Now, a decade later, Hannah and Will are expecting their first child, and the man convicted of killing April, former Oxford porter John Neville, has died in prison. Relieved to have finally put the past behind her, Hannah's world is rocked when a young journalist comes knocking and presents new evidence that Neville may have been innocent. As Hannah reconnects with old friends and delves deeper into the mystery of April's death, she realizes that the friends she thought she knew all have something to hide…including a murder.

The Family Remains by Lisa Jewell
Releases: July 21st, Century / August 9th, Atria
LONDON. Early morning, June 2019: on the foreshore of the river Thames, a bag of bones is discovered. Human bones.

DCI Samuel Owusu is called to the scene and quickly sends the bag for forensic examination. The bones are those of a young woman, killed by a blow to the head many years ago.

Also inside the bag is a trail of clues, in particular the seeds of a rare tree which lead DCI Owusu back to a mansion in Chelsea where, nearly thirty years previously, three people lay dead in a kitchen, and a baby waited upstairs for someone to pick her up.

The clues point forward too to a brother and sister in Chicago searching for the only person who can make sense of their pasts.

Four deaths. An unsolved mystery. A family whose secrets can't stay buried for ever …
Joan by Katherine J. Chen
Releases: July 5th, Hachette
Girl. Warrior. Heretic. Saint?

France is mired in a losing war against England. Its people are starving. Its king is in hiding. Yet out of the chaos, an unlikely heroine emerges.

Reckless, steel-willed and brilliant, Joan has survived a childhood steeped in both joy and violence to claim an extraordinary – and fragile – position at the head of the French army. The battlefield and the royal court are full of dangers and Joan finds herself under suspicion from all sides – as well as under threat from her own ambition.

With unforgettably vivid characters and propulsive storytelling, Joan is a thrilling epic, a triumph of historical fiction, and a feminist celebration of one remarkable – and remarkably real – woman who left an indelible mark on history.
Four Treasures Of The Sky by Jenny Zinghui Zhang
Releases: July 28th, Michael Joseph
Daiyu never wanted to be like the tragic heroine for whom she was named, revered for her beauty and cursed with heartbreak. But when she is kidnapped and smuggled across an ocean from China to America, Daiyu must relinquish the home and future she imagined for herself.

Over the years that follow, she is forced to keep reinventing herself to survive. From a calligraphy school, to a San Francisco brothel, to a shop tucked into the Idaho mountains, we follow Daiyu on a desperate quest to outrun the tragedy that chases her.

As anti-Chinese sentiment sweeps across the country in a wave of unimaginable violence, Daiyu must draw on each of the selves she has been-including the ones she most wants to leave behind-in order to finally claim her own name and story.
The Daughter of Doctor Moreau by Silvia Moreno-Garcia
Releases: July 19th, Del Rey
Carlota Moreau: a young woman, growing up in a distant and luxuriant estate, safe from the conflict and strife of the Yucatán peninsula. The only daughter of either a genius, or a madman.

Montgomery Laughton: a melancholic overseer with a tragic past and a propensity for alcohol. An outcast who assists Dr. Moreau with his scientific experiments, which are financed by the Lizaldes, owners of magnificent haciendas and plentiful coffers.

The hybrids: the fruits of the Doctor's labor, destined to blindly obey their creator and remain in the shadows. A motley group of part human, part animal monstrosities.

All of them living in a perfectly balanced and static world, which is jolted by the abrupt arrival of Eduardo Lizalde, the charming and careless son of Doctor Moreau's patron, who will unwittingly begin a dangerous chain reaction.

For Moreau keeps secrets, Carlota has questions, and in the sweltering heat of the jungle, passions may ignite.
The House of Fortune by Jessie Burton
Releases: July 7th, Picador
Sequel To The Miniaturist

Thea Brandt is turning eighteen, and is ready to welcome adulthood with open arms. At the theatre, Walter, the love of her life, awaits her, but at home in the house on the Herengracht, winter has set in – her father Otto and Aunt Nella argue endlessly, and the Brandt family are selling their furniture in order to eat. On Thea's birthday, also the day that her mother Marin died, the secrets from the past begin to overwhelm the present.

Nella is desperate to save the family and maintain appearances, to find Thea a husband who will guarantee her future, and when they receive an invitation to Amsterdam's most exclusive ball, she is overjoyed – perhaps this will set their fortunes straight. And indeed, the ball does set things spinning: new figures enter their life, promising new futures. But their fates are still unclear, and when Nella feels a strange prickling sensation on the back of her neck, she wonders if the miniaturist has returned for her . . .
A Darkness At the Door by Intisar Khanani
Releases: July 21st, Hot Key Books
Book 3 in Dauntless Path series

I've been cursed, betrayed, and sold into slavery – but the truth I carry can't be allowed to die.

Only Rae knows the extent of the corruption at the heart of the kingdom of Menaiya, from the noble lord who betrayed her, to the Circle of Mages whose wards protect the slavers from discovery. Injured and imprisoned on a slave ship, Rae's options are quickly running out. When a desperate escape attempt goes terribly wrong, she finds herself indebted to a terrifying Fae sorceress.

Now Rae will not rest until she has rescued her fellow prisoners and freed her land from the darkness that has taken hold. To succeed, she'll need every ally she can find-including Bren, the thief who may have stolen her heart. But Bren is hiding his own bloody secrets, and the curses that encircle Rae have sunk their claws into her mind. With her debts coming due and time running short, all the truths in the world may not be enough to save her kingdom, or herself.
Hooked by A.C. Wise
Releases: July 12th, Titan Books
Once invited, always welcome.
Once invited, never free.

Captain James Hook, the immortal pirate of Neverland, has died a thousand times. Drowned, stabbed by Peter Pan's sword, eaten by the beast swimming below the depths, yet James was resurrected every time by one boy's dark imagination. Until he found a door in the sky, an escape. And he took the chance no matter the cost.

Now in London twenty-two years later, Peter Pan's monster has found Captain Hook again, intent on revenge. But a chance encounter leads James to another survivor of Neverland. Wendy Darling, now a grown woman, is the only one who knows how dark a shadow Neverland casts, no matter how far you run. To vanquish Pan's monster once and for all, Hook must play the villain one last time…
Lore Olympus: Volune Two by Rachel Smythe
Releases: July 5th, Del Rey Books
Persephone was ready to start a new life when she left the mortal realm for Olympus. However, she quickly discovered the dark side of her glamorous new home—from the relatively minor gossip threatening her reputation to a realm-shattering violation of her safety by the conceited Apollo—and she's struggling to find her footing in the fast-moving realm of the gods.

Hades is also off-balance, fighting against his burgeoning feelings for the young goddess of spring while maintaining his lonely rule of the Underworld. As the pair are drawn ever closer, they must untangle the twisted webs of their past and present to build toward a new future.
The Darkening by Sunya Mara
Releases: July 5th, Clarion Books
Vesper Vale is the daughter of revolutionaries. Failed revolutionaries. When her mother was caught by the queen's soldiers, they gave her a choice: death by the hangman's axe, or death by the Storm that surrounds the city and curses anyone it touches. She chose the Storm. And when the queen's soldiers—led by a paranoid prince—catch up to Vesper's father after twelve years on the run, Vesper will do whatever it takes to save him from sharing that fate.
Even arm herself with her father's book of dangerous experimental magic.
Even infiltrate the prince's elite squad of soldier-sorcerers.
Even cheat her way into his cold heart.
But when Vesper learns that there's more to the story of her mother's death, she'll have to make a choice if she wants to save her city: trust the devious prince with her family's secrets, or follow her mother's footsteps into the Storm.
Heat Wave by T.J. Klune
Releases: July 19th, Tor
Final book in the Extroadinaries series

Nick, Seth, Gibby, and Jazz are back in action bringing justice, protection, and disaster energy to the people of Nova City.

An unexpected hero returns to Nova City and crash lands into Nick's home, upturning his life, his family, and his understanding of what it means to be a hero in the explosive finale of the thrilling and hilarious Extraordinaries trilogy by New York Times bestselling author TJ Klune.
These Twisted Bonds by Lexi Ryan
Releases: July 19th, Clarion Books
Final book in These Hollow Vows Duology

Brie finds herself caught between two princes and two destinies while the future of the fae realm hangs in the balance.

After Abriella's sister was sold to the fae, she thought life couldn't get any worse. But when she suddenly finds herself caught in a web of lies of her own making ­- loving two princes and trusting neither – things are not quite as clear as she once thought.

As civil war wages in the Court of Darkness, Brie finds herself unable to choose a side. How can she know where she stands when she doesn't even know herself anymore? In this darkly romantic thrill ride, the more Faerie is torn apart from the inside, the clearer it becomes that prophecies don't lie and Brie has a role to play in the fate of this magical realm – whether she likes it or not.
Violet Made of Thorns by Gina Chen
Releases: July 26th, Delacorte Press
There's always a price for defying destiny.

Violet is a prophet and a liar, influencing the court as Seer with her cleverly phrased – and not always true – divinations. Honesty is for suckers, like the oh-so-not-charming Prince Cyrus, who plans to strip her of her title once he's crowned.

After the king asks her to falsely prophesy Cyrus's love story for an upcoming ball, Violet awakens a dreaded curse about the prince's future bride. Her wits may protect her in the cutthroat court, but they can't protect her against fate – nor the doomed attraction growing between her and the prince . . .
Thanks For Reading,
Jess X